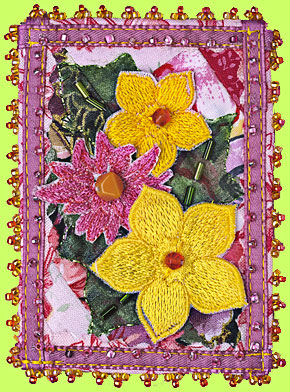 Eye Candy Quilts
One half day workshop
All skill levels - Product

Eye Candy quilts are stunning mini-quilts that are so much fun to make they should be illegal! They can be finished in practically no time and adding beads, buttons, ribbons, paint, feathers and a myriad of other commonly available materials is so fun and easy that ANY quilter will be dazzled.
Finished quilt will be about 2 ½ x 3 inches.
Supply List
Basic sewing supplies (scissors, needles, thread, etc.) Needle I prefer is a #8 Large eyed 'between' quilting needle
Rotary cutter, ruler and mat (Wavy edge cutter too, if you own one)
Fusible web scrap
Batting scrap
Fabric Scraps
6" Embroidery hoop with muslin
Embellishments
You do not need to bring all of the following. I recommend that you pick a container (a gallon zip lock bag works well) and fill it with your favorites. It is hard to know in advance what you will need, so remember that there will be lots of extra stuff.
Thread- Embroidery floss, pearl cotton or whatever; in-assorted colors
Beads
Nymo thread (beading thread)
Buttons
Ribbon - scraps
Doilies, Lace or lace motifs
Ribbon roses
Cording
Optional, but nice
NO SEWING MACHINE NECESSARY
Contact me about availability and fee schedule